Britney Spears' Net Worth And Biography (Updated 2022)
Who Is Britney Spears?
Britney Jean Spears, popularly known as Britney Spears, is an American singer-songwriter, dancer, and actress who is famous for reviving the teen pop culture in the late 90s and early 2000s. Since she released her debut album in 1999, Spears has scored a record six #1 albums on the Billboard 200 and is presently ranked as the third-best-performing female musician on the chart.
Also, five of Britney Spears' singles topped the U.S Billboard Hot 100. Britney's impressive performance has not gone without recognition.
She has earned numerous awards, including:
• 1 Grammy Award,
• 6 MTV Video Music Awards,
• 7 Billboard Music Awards, and
• 7 Guinness World Records.
To date, Britney Spears has sold over 100 million records worldwide.
Quick Facts
| | |
| --- | --- |
| Full Name: | Britney Jean Spears |
| Popular Name: | Britney Spears |
| Gender: | Female |
| Birth Date: | December 2, 1981 |
| Age: | 40 years |
| Parents: | James Parnell Spears and Lynne Irene Bridges |
| Siblings: | Bryan James and Jamie Lynn Spears |
| Birth Place: | McComb, Mississippi |
| Nationality: | American |
| Ethnicity: | English and Maltese |
| Education: | Parklane Academy and Professional Performing Art |
| Marital Status: | Divorced. Previously married to Jason Allen Alexander (2004 – 2004) and Kevin Federline (2004 – 2007) |
| Sexual Orientation: | Straight |
| Wife/Spouse: | N/A |
| Children: | Sean Federline and Jayden James Federline (from marriage with Kevin Federline) |
| Dating: | N/A |
| Net Worth: | 215 million (as of June 1st, 2021) |
| Source of Wealth: | Singing, Songwriting, Dancing, Acting, Endorsement Deals, and Other Ventures |
| Height: | 5′ 4″ (1.63 m) |
| Weight: | 57 kg (126 lbs) |
Early Life and Career Information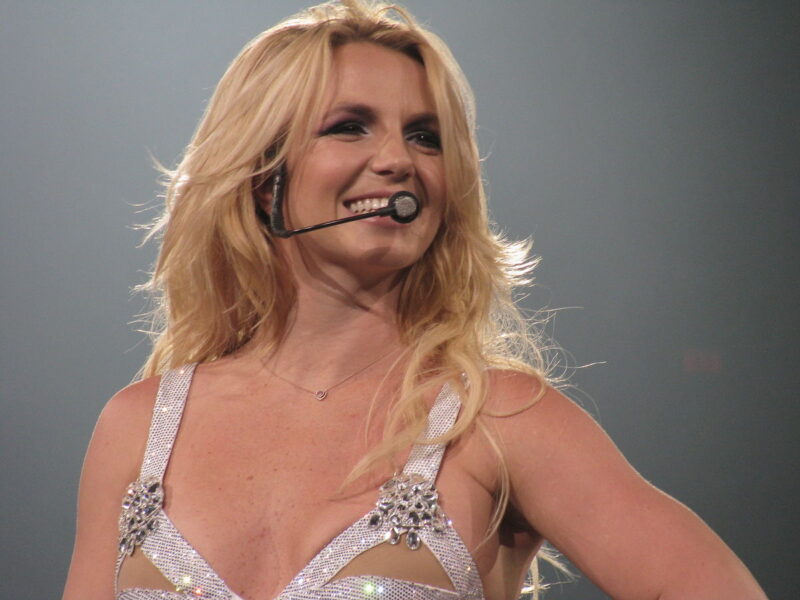 Britney Spears was born on December 2, 1981, in McComb, Mississippi, to James Parnell Spears and Lynne Irene Bridges. Spears appeared in stage productions and various television series before branching out to music. In 1997, she signed with Jive Records and her first two albums performed tremendously well globally.
After the success of her first two albums, Britney Spears assumed a more provocative persona, the same that she used to release her next couple of songs.
The following are the albums that the sensational popstar has released to date:
• …Baby One More Time (1999)
• Oops!… I Did It Again (2000)
• Britney (2001)
• In the Zone (2003)
• Blackout (2007)
• Circus (2008)
• Femme Fatale (2011)
• Britney Jean (2013)
• Glory (2016)
Britney Spears Net Worth
As of June 1, 2021, Britney Spears had a net worth of $215 million. She has earned her wealth from her long and stellar career as a singer, songwriter, dancer, and actor. In addition, Britney earns significantly from lucrative endorsement deals and other business investment ventures.
a) Britney Spears' Music, Tours, and Residency
In 1999, at the tender age of 17, Britney Spears released a sensational music album titled Baby One More Time. The album earned roughly $15 million, which works out as $23 million today if adjusted for inflation. Britney's debut music tour, Baby One More Time tour, grossed more than $17.5 million after covering a record 56 shows all over North America.
After the success of her first album, Britney Spears went on to release her second album in 2000, titled Oops!…..I Did It Again. The album sold more than 20 million copies and was followed by a worldwide tour that grossed more than $40.5 million.
Britney Spears' Dream Within a Dream tour was also a tremendous success, earning the popstar some $43.7 million. However, it was her 2009 tour titled The Circus Starring Britney Spears that set tongues wagging. The tour grossed $131.8 million and became one of the highest-grossing tours of the decade.
In addition to album sales and successful tours, Britney Spears has also earned big bugs from taking residencies in Las Vegas. In 2013, she signed a $30 million deal to perform 100 shows over two years at Las Vegas' Planet Hollywood.
Spears renewed her Las Vegas residency contract for another two years. And by the time she performed her last show on December 31, 2017, Britney Spears had earned more than $100 million in ticket sales over the four years. The final show itself brought in a whopping $1.172 million.
b) Britney Spears' Big Screen Gigs
As an actor, Britney Spears has appeared in a couple of films and television shows. In 2002, she released her film, Crossroads, which grossed $61.1 million worldwide from a budget of $12 million.
In television shows, Britney Spears joined the reality TV show, The X Factor, in 2012. She reportedly earned $15 million from the show.
c) Britney Spears' Endorsement Deals
Britney Spears has entered into scores of endorsement partnerships throughout her career. She signed her most lucrative endorsement deal in 2001 with Pepsi. The contract, which was estimated to be between $7 and $8 million, was the most lucrative entertainment endorsement deals at the time.
Britney Spears also partnered with Elizabeth Arden in 2004 to release her debut perfume known as Curious. The fragrance has since spawned more than 25 perfumes. Spears reportedly makes around $50 million annually from her signature scents.
Other brands that Britney Spears partnered with include:
• Amazon,
• American Express,
• Candie's,
• Colgate,
• Comcast,
• Estee Lauder,
• Glu Mobile,
• Google,
• Home Depot,
• Make Up For Ever,
• McDonald's,
• PlentyofFish,
• Priceline,
• Skechers,
• Sony,
• Verizon, and
• Visa
d) Britney Spears' Real Estate
Britney Spears has flipped several luxury properties over the years. In 2012, she purchased a mansion in Thousand Oaks, Los Angeles, for $6.7 million and sold it in 2017 for $7 million.
Spears has another mansion in the same neighborhood which she acquired in 2015 at a cost of $7.4 million, as well as another family compound in Louisiana.
Life Lessons from Britney Spears
1. Be strong even in the face of adversity
Beginning 2006 to around mid-2007, Britney Spears underwent what might be considered the lowest moments in her life and career. Spears lost custody of her two sons to her ex-husband, Kevin Federline, after the judge discovered that she was a habitual alcohol and substance addict.
The ordeal literally saw her lose her mind and many critics might have written her off completely. However, she accepted the situation and handled it professionally, such that no further damage would be caused to her career than the one that she had already suffered.
2. Always surprise your critics
After losing custody of your sons and receiving all the negative publicity for your relationship with narcotics, most celebrities would probably bring down the curtains on their careers. However, Britney Spears had other plans. In 2007, she surprised everyone by staging a grand comeback with her album Blackout. She literally bounced back onto the stage like she never left.
3. Life is about simple pleasures
Britney Spears exacts happiness from the simple pleasures that most of us often ignore. She has been photographed several times doing some insane things, such as drinking from profane mugs.
Quotes by Britney Spears
"I don't like defining myself. I just am."
"I want to be an artist that everyone can relate to, that's young, happy and fun."
"Just because I look sexy on the cover of Rolling Stone doesn't mean I'm naughty."
"My prerogative right now is to just chill and let all the other overexposed blondes on the cover of Us Weekly (magazine) be your entertainment."
"With love, you should go ahead and take the risk of getting hurt… because love is an amazing feeling."
Final Word
Britney Spears has earned herself a spot among the most talented artists of her time. In her, we can also learn that setbacks may knock you down but not put you out.