DJ Khaled's Net Worth And Biography (Updated 2022)
Who Is DJ Khaled?
Khaled Mohammed Khaled, popularly known as DJ Khaled, is an American DJ, songwriter, record producer, record executive, media personality, and investor.
Quick Facts
| | |
| --- | --- |
| Full Name: | Khaled Mohamed Khaled |
| Popular Name: | DJ Khaled |
| Gender: | Male |
| Birth Date: | November 26, 1975 |
| Age: | 46 years |
| Parents: | Unknown |
| Siblings: | Alec Ledd |
| Birth Place: | New Orleans, Louisiana |
| Nationality: | American |
| Ethnicity: | Palestinian Arab |
| Education: | Dr. Phillips High School |
| Marital Status: | Married |
| Sexual Orientation: | Straight |
| Wife/Spouse: | Nicole Tuck |
| Children: | Yes, two sons |
| Dating: | N/A |
| Net Worth: | USD 75 million (as of July 1st, 2021) |
| Source of Wealth: | Disk Jockeying, Singing and Songwriting, Record Producing, and Other Ventures |
| Height: | 5′ 5″ (1.67 m) |
| Weight: | 85 kg; In pounds: 187 lbs. |
Early Life and Career Information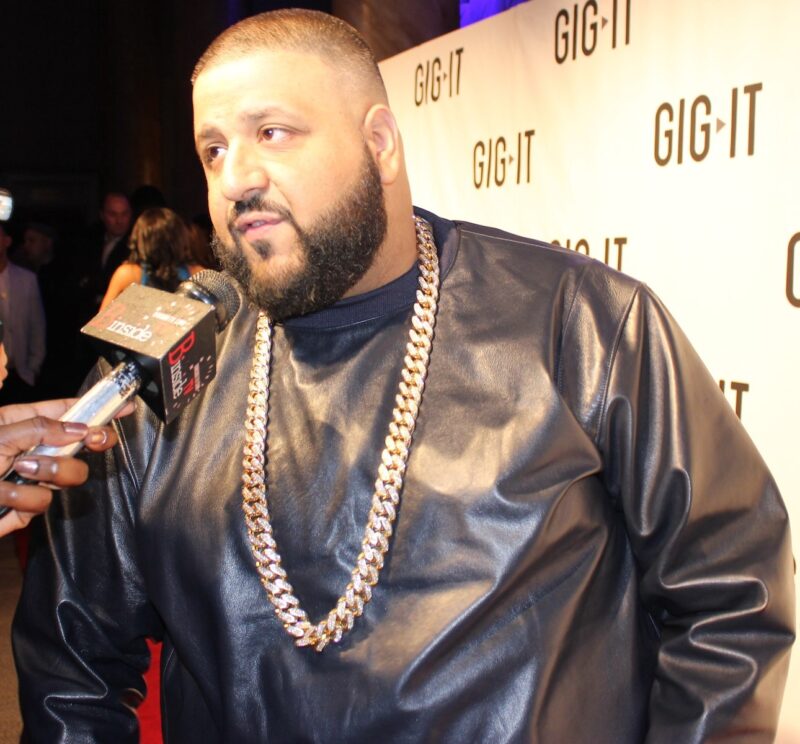 DJ Khaled was born on November 26, 1975, in New Orleans, Louisiana, to Palestinian immigrants. He has an elder brother named Alec Ledd, who is an actor.

Khaled developed an interest in music at a tender age and received overwhelming support from his parents. In addition to the support he got from his parents, Khaled's interest in the music industry was further bolstered by his experience working at a local Merry Go-Round record store.

DJ Khaled made his foray into the entertainment industry as a radio host on 99 Jamz, back in the 90s. His popularity began to rise when he began deejaying for Terror Squad's live performance. He leveraged the fame he had garnered working with the group to release his debut studio album in 2006, titled Listennn… the Album. The album went on to earn gold certification and a year later, Khaled released his second album, We the Best.

After the success of his first two albums, DJ Khaled founded the record label We the Best Music Group. The following are other studio albums that the sensational DJ has released so far:

• We Global (2008),
• Victory (2010),
• We the Best Forever (2011),
• Kiss the Ring (2012),
• Suffering from Success (2013),
• I Changed a Lot (2015),
• Major Key (2016),
• Grateful (2017),
• Father of Asahd (2019), and
• Khaled Khaled (2020)

Outside the entertainment industry, DJ Khaled is also a successful writer. One of his most successful books, The Keys, featured on the New York Times Best Seller list. Khaled has also dabbled in the film industry, and is remembered for his performance in 2019's Spies in Disguise and 2020's Bad Boys for Life.
DJ Khaled's Net Worth
As of July 1st, 2021, DJ Khaled had a net worth of $75 million. He has made his wealth from various endeavors in and outside of the entertainment industry. Apart from his DJ work, Khaled also earns substantially from touring, producing, and endorsement contracts.

DJ Khaled is undoubtedly one of the top-earning people in hip-hop. Ironically, his earnings have very little to do with hip-hop or music itself. Over the past few years, Khaled has reportedly made much of his money from the lucrative endorsement contracts he has undertaken. Apple, Ciroc, Champ Sports, Mentos, and Weight Watchers are just some of the many big brands that the DJ has signed endorsement deals with.

The following is a highlight of Khaled's earnings over the past few years:
• 2014 – Earned $7 million
• 2015 – Earned $8 million
• 2016 – Earned $15 million
• 2017 – Earned $24 million
• 2018 – Earned $27 million
• 2019 – Earned $39 million
• 2020 – Earned $35 million

Like many celebrities, DJ Khaled also has interests in real estate. In 2017, he purchased a property in Mulholland Estates, Los Angeles, at a cost of $9.9 million. The house was previously owned by Robbie Williams. A year later, Khaled purchased a waterfront property in Miami at a cost of $25.9 million.

Other business ventures by DJ Khaled include a record label, a publishing company, a furniture line, and a headphone line.
Life Lessons from DJ Khaled
1. Diversify your income

DJ Khaled understands that in order to be rich, you've got to have several income streams. Not only does Khaled earn from his DJ work. He also makes decent cash out of singing, touring, and most importantly, lucrative endorsement contracts. Also, despite the glamorous lifestyle he portrays in his songs and on social media, the DJ's real life is far from lavish.

2. Always strive to make others grow

During the early years of his career, DJ Khaled met and nurtured various artists, including Birdman and Lil Wayne. It's worth noting that at the time, Khaled himself was still trying to break onto the entertainment scene. That he still had time to nurture other artists speaks to his profound sense of humanity.

3. Be positive

DJ Khaled's rise to the top has been a bumpy ride. He has faced all manner of obstacles, including financial constraints and skepticism. While attending one of Ellen DeGeneres' show, Khaled once said, "My journey in life, I have always been told, 'no.'" "And I always took them 'nos' and turned them into 'yes,' you know what I am saying? I always believed in my path, my vision. Even though I know you have to go through trials and tribulations in life — but I do know there is sunshine on the other side.
Famous Quotes by DJ Khaled
"Hate is a waste of emotion, tell them to jump in the ocean, salt water."
"Life is like a hammock, it swings back and forth back and forth, stay focused."
"The key is to find happiness and when you find happiness embrace it."
"There's a thing called the brick wall — some people go against their blessings and don't embrace it — and they run into that brick wall."
"You will be tested. It is what it is, it's those that pass the test stay focused."
Final Word
DJ Khaled's success story is another reminder that anything worth having is worth fighting for. He has surmounted numerous challenges to earn himself a spot in the hip-hop industry. And thanks to his business acumen, Khaled now earns millions from several endeavors that are not necessarily tied to hip-hop or his DJ work.