Donald Trump's Net Worth And Biography (Updated 2022)
Who Is Donald Trump?
Donald John Trump is the 45th president of the United States who is currently serving his first term. Trump is also a savvy businessman and television personality who has invested heavily in real estate. As a media personality, he is mostly remembered for his role in the television reality series, The Apprentice.
Quick Facts
| | |
| --- | --- |
| Full Name: | Donald John Trump |
| Popular Name: | Donald Trump |
| Gender: | Male |
| Birth Date: | June 14, 1946 |
| Age: | 75 years |
| Parents: | Fred Trump and Mary Anne McLeod Trump |
| Siblings: | Robert Trump, Maryanne Trump Barry, Elizabeth Trump Grau, and Fred Trump, Jr. |
| Birth Place: | Queens, New York City |
| Nationality: | American |
| Ethnicity: | White, German, and Scottish |
| Education: | Kew-Forest School, New York Military Academy, Fordham University, and Wharton School of the University of Pennsylvania |
| Marital Status: | Married. Formerly married to Ivana Trump (1977 – 1992) and Marla Maples (1993 – 1999) |
| Sexual Orientation: | Straight |
| Wife/Spouse: | Melania Trump |
| Children: | Donald Trump Jr., Ivanka Trump, and Eric Trump (from marriage with Ivana), Tiffany Trump (from marriage with Marla Maples) and Barron Trump (with current wife, Melania) |
| Dating: | N/A |
| Net Worth: | 3.1 billion (as of June 1st, 2021) |
| Source of Wealth: | Corporate Salary and Entrepreneurial Ventures |
| Height: | 6′ 2″ (1.9 m) |
| Weight: | 110 kg; In pounds: 242 lbs. |
Early Life and Career Information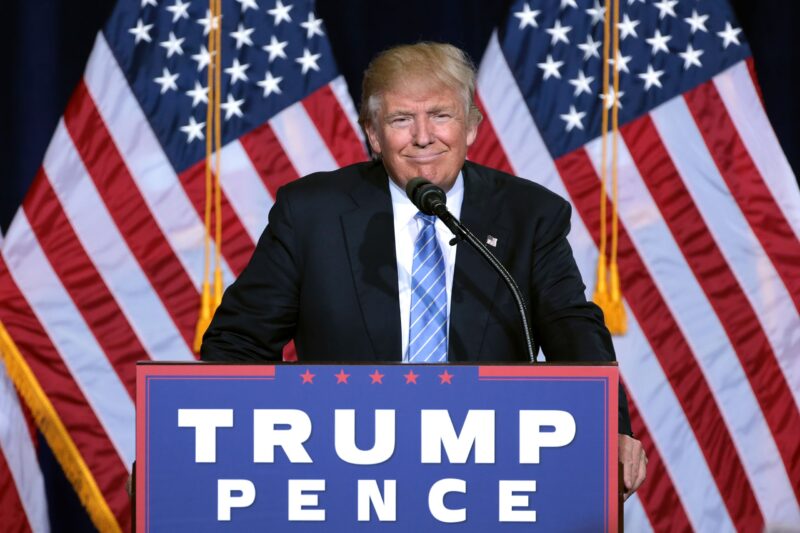 Donald Trump was born on June 14, 1946, in Queens, New York City, to Fred Trump and Mary Anne McLeod Trump. He attended Kew-Forest School from kindergarten to seventh grade.
When he was 13, Trump was enrolled at the New York Military Academy located in the rural town of Cornwall, about 60 miles north of New York City. In 1964, he enrolled at Fordham University where he studied for two years before transferring to the University of Pennsylvania's Wharton School. Trump graduated from Wharton School with a Bachelor of Science in economics in May 1968.
Immediately after graduation, Trump began working at his father's real estate development company, E. Trump & Son. A few years later, he assumed control of the company and used his influence to undertake various real estate development projects.
After years in business, Trump finally entered politics and vied successfully for the President of the United States in 2016.
Donald Trump's Net Worth
As of June 1, 2021, Donald Trump had a net worth of $3.1 Billion. He has earned his fortune from undertaking numerous investment ventures throughout his professional career.
The following are some of the ways that Trump has made his billions;
i. Inheritance
According to the New York Times, Donald Trump received millions from his father's business empire. If adjusted for 2018 inflation, the amount works out as roughly $413 million.
Trump is also a huge beneficiary of the trust fund that was set up by his dad and paternal grandmother. Reports indicate that he was already a millionaire at the age of 28. In 1976, Trump's dad, Fred Trump set up trust funds worth $1 million for each of his children.
In 1980, Donald Trump received $90,000 of his share of the trust fund and $214,605 a year later. If adjusted for inflation, $1 million in 1976 is at least $4.5 million today.
ii. Real Estate
Donald Trump did not just sit on his inheritance money; he went ahead and invested a huge chunk of it in various profitable ventures.
Trump kicked off his professional career in 1968 with keen interests in real estate. At the time, he was working at his father's real estate development company known as E. Trump & Son. Four years later, Donald Trump became the president of E. Trump & Son, subsequently renaming the company to The Trump Organization.
In 1978, Trump began serious real estate development projects. One such project was the renovation of the Commodore Hotel that's adjacent to the Grand Central Terminal.
The renovation cost was financed by a city property tax abatement worth $400 million, which was arranged by his dad. In 1980, the hotel was reopened and renamed the Grand Hyatt Hotel. The same year, Donald Trump obtained exclusive rights to develop the Trump Tower skyscraper in Midtown Manhattan.
In 1988, Trump secured a $425 million loan from various banks and invested the money in purchasing the Plaza Hotel. However, the hotel filed for bankruptcy protection just two years later and in 1992, a reorganization plan was approved. Trump would later lose the hotel in 1995 to Citibank and investors from Saudi Arabia and Singapore.
The following are other notable properties that Donald Trump has acquired throughout his career as a real estate investor;
a) A Mar-a-Lago estate located in Palm Beach, Florida, acquired in 1985.
One wing of the estate was designated as a home, with the other wing converted into a private club. The club attracted an initiation fee as well as annual dues. Up until January 2017, the club charged $100,000 in initiation fee before doubling the amount to $200,000. On September 27, 2019, Donald Trump declared that the entire Mar-a-Lago estate would be his primary residence.
b) A 71-story skyscraper located at 40 Wall Street acquired in 1996.
Trump renovated the property and renamed it the Trump Building.
iii. Casinos
Donald Trump has also invested in the lucrative casino industry. He made his foray into gambling by opening Harrah's at Trump Plaza hotel & casino in 1984, in Atlantic City, New Jersey.
Around the same time, Trump acquired a partially-completed building in the same city for an estimated $320 million. When the building was completed in 1985, he converted it to a hotel and casino and named it Trump Castle.
Other casinos associated with Donald Trump include the Taj Mahal in Atlantic City and the Trump Hotels & Casino Resorts (THCR).
iv. Golf Courses
In 1999, Trump invested in the acquisition and construction of golf courses. At some point, he owned up to 16 golf courses and resorts globally.
v. Branding and Licensing
In the early 90s, the Trump Organization suffered enormous losses and most of Donald Trump's projects were teetering on the brink of debt. Trump decided to brand and license the "Trump" name.
The "Trump" name has since expanded to numerous hotel towers and buildings around the world, as well as foodstuffs, adult learning courses, sporting events, home furnishings, etc.
vi. Transport
In 1988, Trump acquired the now-defunct Eastern Air Lines shuttle at a cost of $380 million. He renamed the company Trump Shuttle and operated it till 1992.
vii. Big Screen Gigs and Book Authorship
Donald Trump has made numerous cameo appearances in movies and television shows. Examples of films he has appeared in include Home Alone 2 and Sex & The City. However, his most memorable big screen gig was the reality TV show, The Apprentice Show.
Trump hosted The Apprentice for 14 weeks and went on to become its executive producer. According to Forbes, he reportedly earned $7 million from The Apprentice show. Trump is also remembered for his guest appearances in talk shows, mostly on the nationally-syndicated Howard Stern Show. At some point, he even had his own radio program known as Trumped!
Trump has also authored several books, some of which have become best-sellers. Worthy of mention is the 1987's The Art of the Deal which stayed on the New York Times Best Seller list for a record 48 weeks. The book is believed to have earned Trump at least $1 million so far.
viii. Presidential Salary
As president of the United States, Donald Trump earns $400,000 a year, plus a $100,000 nontaxable travel allowance, $50,000 expense allowance, and $19,000 entertainment allowance.
In addition to the above ventures, Donald Trump has also been associated with Miss Universe pageants and the World Wrestling Federation/Entertainment. Not to mention the Trump University, a company that sold real estate training courses ranging from $1,500 to $35,000.
Life Lessons from Donald Trump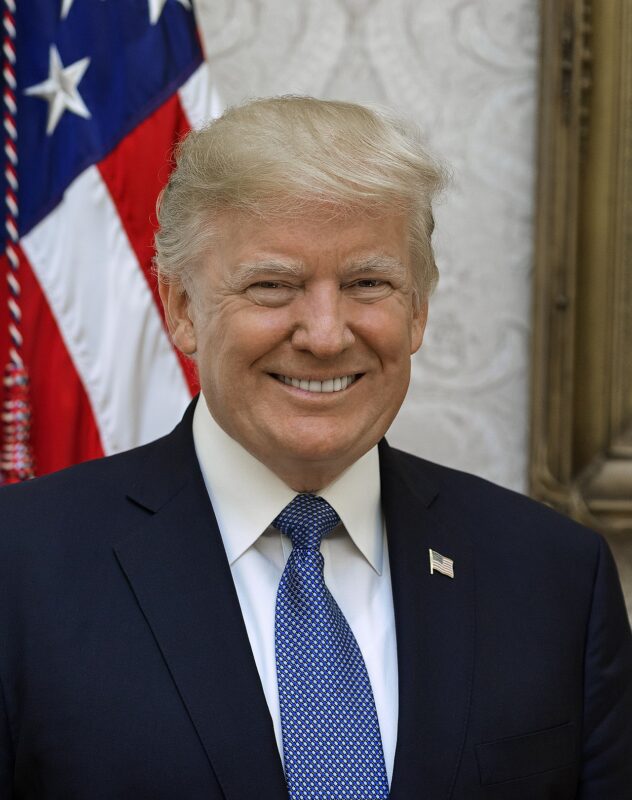 1. Be willing to take risks
Throughout his career as a businessman, Donald Trump took numerous investment risks. Some of them paid off, others didn't. His decision to vie for the president of the United States was itself a grand risk.
2. Be resilient in pursuit of success
Trump may have inherited a substantial amount of money from his dad's empire. However, it took years of hard work and resilience to turn those millions into billions.
3. Expand your skills
As a businessman, Donald Trump has explored numerous ventures, ranging from the real estate to the hotel and casino industry, golf courses, television, etc.
Quotes by Donald Trump
"[Overseas] we build a school, we build a road, they blow up the school, we build another school, we build another road, they blow them up, we build again. In the meantime we can't get a fucking school in Brooklyn."
"I have a great relationship with African Americans, as you possibly have heard. I just have great respect for them. And they like me. I like them."
"I think if this country gets any kinder or gentler, it's literally going to cease to exist."
"I will be phenomenal to the women. I mean, I want to help women."
"We're rounding 'em up in a very humane way, in a very nice way. And they're going to be happy because they want to be legalized. And, by the way, I know it doesn't sound nice. But not everything is nice."
Conclusion
Donald Trump is one of the most astute business moguls the world has ever known. His political ideologies may be a little controversial but that's a topic for another day.