Elton John's Net Worth And Biography (Updated 2022)
Who Is Elton John?
Sir Elton Hercules John CH CBE, popularly known as Elton John, is an English singer-songwriter, pianist, composer, actor, and producer who is famous for his rich vocals and impressive piano playing skills. Elton John has sold over 300 million records and is currently ranked as one of the best-selling music artists on the planet.
During his heydays, Elton John's tracks perennially dominated the UK Singles Chart as well as the US Billboard Hot 100. For instance, his single titled Candle in the Wind 1997, which he rewrote in tribute to Princess Diana, sold more than 33 million copies globally. The song is currently ranked as the best-selling track in the history of single charts both in the UK and US.
Throughout his career, Elton John has also won numerous awards, including:
• 1 Disney Legends award,
• 1 Tony Award,
• 2 Academy Awards,
• 2 Golden Globe Awards,
• 5 Brit Awards, and
• 5 Grammy Awards
Quick Facts
| | |
| --- | --- |
| Full Name: | Sir Elton Hercules John (born Reginald Kenneth Dwight) |
| Popular Name: | Elton John |
| Gender: | Male |
| Birth Date: | 25 March 1947 |
| Age: | 74 years |
| Parents: | Stanley Dwight and Sheila Eileen |
| Siblings: | Geoff Dwight, Stan Dwight, Simon Dwight, and Robert Dwight |
| Birth Place: | Pinner, Middlesex, England |
| Nationality: | English |
| Ethnicity: | English |
| Education: | Pinner Wood Junior School, Reddiford School, Pinner County Grammar School, and the Royal Academy of Music |
| Marital Status: | Married. Formerly married to Renate Blauel (1984 – 1988) |
| Sexual Orientation: | Gay |
| Wife/Spouse: | David Furnish |
| Children: | Zachary Jackson Levon Furnish-John and Elijah Joseph Daniel Furnish-John |
| Dating: | N/A |
| Net Worth: | 500 million (as of June 1st, 2021) |
| Source of Wealth: | Singing, Acting, Music Composing and Songwriting, Record Production, Film and Television Production, Voice Acting, Endorsement Deals, and Other Ventures |
| Height: | 5′ 7.5″ (1.72 m) |
| Weight: | 87 kg; In pounds: 192 lbs. |
Early Life and Career Information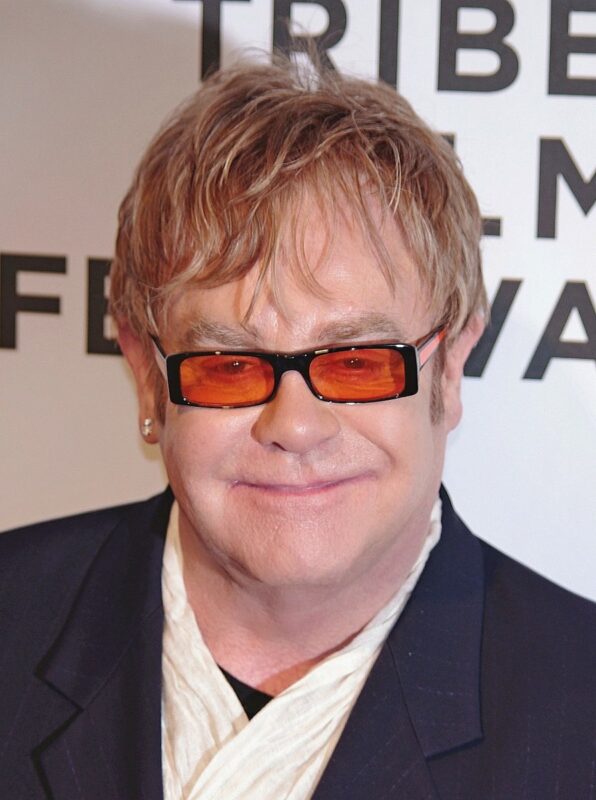 Elton John was born on March 25, 1947, in Pinner, Middlesex, to Stanley Dwight and Sheila Eileen. His parents divorced when he was 14 and his mother married Fred Farebrother, who played an instrumental role in nurturing his musical talent.
Elton John's musical aptitude began to show while he was still a very young boy. He was particularly interested in playing the piano. John's piano playing skills earned him a junior scholarship to the Royal Academy of Music when he was 11 years. He attended Saturday classes at the institution for five years.
John finally broke onto the scene in 1967 when he met his long-term music partner, Bernie Taupin. The duo began as songwriters for famous musicians and music groups at the time, such as Lulu, the Scaffold, and the Hollies.
In 1969, Elton John released his debut album titled Empty Sky, which became an instant hit. To date, the legendary singer has released at least 30 studio albums as well as a few collaboration albums.
Elton John's Net Worth
As of June 1, 2021, Elton John had a net worth of $500 million. The legendary singer has earned his fortunes through album sales and successful music tours.
Elton John also owes a significant portion of his net worth to acting, music composing and songwriting, record producing, film and television producing, voice acting, endorsement deals, and other business ventures.
Over the years, Elton John has frequently featured among the highest-earning entertainers in the world. For instance, the 73-year old singer earned $45 million from June 2017 to June 2018.
However, Elton John's net worth could have been way higher than what it currently is, were it not for his lavish spending. John reportedly spent up to $2 million every month during the mid- and late-90s.
In 1996, the singer is believed to have spent over $14 million on homes and more than $500,000 on flowers, plus a lot more on luxury cars. In 2001, he surprised many when he sold 20 of his personal cars that he had never driven. The most expensive sale was a 1993 Jaguar XJ220 that fetched £234,750.
1. Elton John's Residency
Elton John held a Las Vegas residency known as The Million Dollar Piano. In the contract, he would receive a whopping 88% of all door revenues for each show he performed at. Therefore, his earnings in a single show worked out as around $500,000.
2. Elton John's Art Collection
Elton John is a savvy art collector, with reports estimating his art collection to be worth more than $200 million. Some of the notable artworks that have featured in Elton John's art collection include works by Mapplethorpe, Haring, Warhol, and Damien Hirst.
John is also known for having one of the largest collections of photography and in 2004, he sold 70 photographs for $900,000.
3. Elton John's Real Estate
For many years, Elton John's primary residence has been a large home known as Woodside, located in Old Windsor, Berkshire, England. John acquired the 37-acre property in 1974 for £400,000, or about $5 million if adjusted for inflation today. In 1988, he sold all the contents of his house for $8 million and embarked on serious refurbishing.
In addition to his primary residence, Elton John has also invested in real estate properties in London, Nice, Venice, Los Angeles, and Atlanta. His most notable home outside the UK is a Beverly Hills estate acquired in 2015 for $33 million.
4. Elton John's Other Ventures
Elton John's net worth is set to skyrocket after he recently launched his farewell tour dubbed Farewell Yellow Brick Road. The tour is expected to span three years, during which the legendary singer will perform in more than 300 shows. According to projections, the tour might gross upwards of $400 million in ticket sales alone.
Another major project that may increase John's net worth is his biopic film titled Rocketman, which was released in May 2019 by Paramount Pictures. Being the film's executive producer, Elton John will definitely take home huge paychecks in producer credits.
Life Lessons from Elton John
1. Be proud of who you are
Elton John came out of the closet in a 1976 interview with Rolling Stone. He was not so much bothered about how his fans would receive the news. In another interview with Rolling Stone in 1992, he admitted to being proud of his sexual orientation.
2. Mixing friendship with business works…after all
John has maintained a close business partnership and personal connection with his long-term music partner, Bernie Taupin, for more than 50 years.
3. Service to humanity is service to God
Elton John may be indifferent about the concept of God and spirituality, but his charitable works fit perfectly within various religious ideals. He has donated millions of dollars to charitable organizations, mostly through his charity fund program, the Elton John AIDS Foundation.
Quotes by Elton John
"Don't judge the picture by the frame, every man is not the same."
"I have a lot of money stashed away, but I do live my life from day to day."
"Live for each second without hesitation."
"Music has healing power. It has the ability to take people out of themselves for a few hours."
"There is nothing wrong with going to bed with someone of your own sex. People should be very free with sex, they should draw the line at goats."
Conclusion
Elton John may have retired from the music scene, but he has truly left his mark. His music will continue to inspire millions of people for generations to come.