Lil Uzi Vert's Net Worth And Biography (Updated 2022)
Who Is Lil Uzi Vert?
Symere Bysil Woods, popularly known by his stage name Lil Uzi Vert, is an American rapper, singer, and songwriter who became famous after releasing the commercial mixtape Luv Is Rage in 2015.
Over the years he has been in the rap game, Lil Uzi Vert has continually endeavored to distinguish himself from fellow rappers, both in rap style and appearance. His rap style combines elements of rock music and emo rap, nearly similar to that of Lil Wayne. Most of his songs tend to address dark subjects. In terms of physical appearance, Lil Uzi Vert is famous for his stylish facial piercings and tattoos, queer hairstyles, and bisexual fashion.
Lil Uzi Vert has since won one notable award, The 2017 MTV Video Music Award in the category Song of Summer.
Quick Facts
| | |
| --- | --- |
| Full Name: | Symere Bysil Woods |
| Popular Name: | Lil Uzi Vert |
| Gender: | Male |
| Birth Date: | July 31, 1994 |
| Age: | 27 years |
| Parents: | Unknown |
| Siblings: | Unknown |
| Birth Place: | Philadelphia, Pennsylvania |
| Nationality: | American |
| Ethnicity: | African-American |
| Education: | Northeast High School |
| Marital Status: | Single |
| Sexual Orientation: | Straight |
| Wife/Spouse: | None |
| Children: | None |
| Dating: | N/A |
| Net Worth: | USD 20 million (as of August 1, 2021) |
| Source of Wealth: | Rapping, Singing, Songwriting, Touring, and Other Ventures |
| Height: | 5′ 7″ (1.62 m) |
| Weight: | 68 kg; In pounds: 150 lbs. |
Early Life and Career Information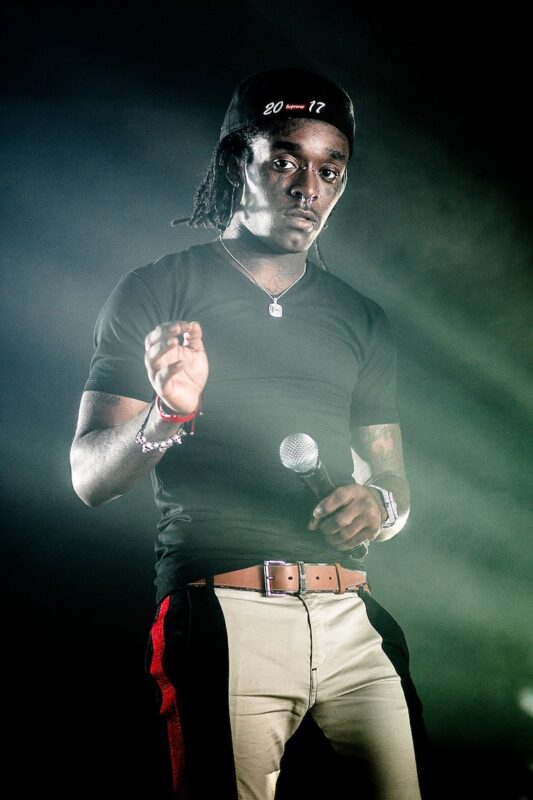 Symere Bysil Woods was born on July 31, 1994, in Philadelphia, Pennsylvania.
As a young kid, Woods grew up listening to songs by famous rappers like Mike Jones, Ying Yang Twins, Wiz Khalifa, Meek Mill, Smash Mouth, Simian, and Marilyn Manson. At the age of 13, he confessed to being a big fan of Marilyn Manson and went ahead to claim that Manson's Mechanical Animals was his favorite album.
Symere Woods started rapping in 10th grade. He teamed up with two other friends to form a rap group known as Steaktown. The group later split up when Woods was 17 years.
As his interest in rapping continued to rise, Woods decided to drop out of high school in favor of pursuing his musical ambitions. He landed a job at a Bottom Dollar store but quit after only four days of working. At this point, he was dead broke and began to wonder whether he would ever achieve his rapping ambitions. His financial woes were further compounded when his mother kicked him out of his home.
Broke and homeless, Woods went on to get his first facial tattoo with the word 'Faith,' as a way of proving that he wasn't about to give up on his musical dreams. He later changed his name to Lil Uzi Vert and began to take his rapping seriously.
Lil Uzi Vert released his first musical project on January 19, 2014, an extended play (EP) titled Purple Thoughtz Vol. 1. The single White Shit off the album achieved tremendous success and caught the attention of Def Jam A & R, Don Cannon, who went on to sign Lil Uzi Vert to his The Academy imprint. Through the deal, Lil Uzi Vert was able to release his debut mixtape, The Real Uzi, on August 2014.
Lil Uzi Vert went on to sign a record deal with Atlantic Records, during which he released and uploaded numerous sounds to SoundCloud. On October 20, 2015, he released his second and one of his most popular mixtapes to date, Luv Is Rage. Thanks to Luv Is Rage, HotNewHipHop declared Lil Uzi Vert the 'breakout artist of 2015.' Lil Uzi Vert has since followed up with two other mixtapes, Lil Uzi Vert vs. the World (2016) and The Perfect LUV Tape (2016).
In 2017, Lil Uzi Vert released his debut studio album titled Luv Is Rage 2. He released his second album in 2020, titled Eternal Atake.
In addition to his mixtapes and studio albums, Lil Uzi Vert has also released the deluxe album Lil Uzi Vert vs. the World 2 (2020). Plus, he has released two major collaborative projects, including 1017 vs. The World (with Gucci Mane in 2016) and Pluto x Baby Pluto (with Future in 2020).
Lil Uzi Vert's Net Worth
Lil Uzi Vert has been in the rap game for slightly over a decade. Thanks to his hard work and resilience, the rapper he has already become one of the household names in the industry.
As of August 1, 2021, Lil Uzi Vert had a net worth of $20 million. He has earned nearly his entire wealth from music-related ventures, which include rapping, singing, songwriting, and touring.
Due to his commercially successful tours, Lil Uzi Vert has often been one of the highest-paid rappers in the world. For instance, he earned $20 million from September 2017 to September 2018, a huge chunk of which came from his touring. According to Pollstar, Lil Uzi Vert demands as much as $60,000 for every concert that he graces.
Lessons from Lil Uzi Vert
1. Turn your adversity into opportunity
At some point in his life, Lil Uzi Vert was broke and homeless. It would have been convenient to give up on his rapping ambitions then. However, he went ahead to get a facial tattoo with the word 'Faith' as a way of motivating himself to work even harder towards his musical dreams.
2. Stand out in whatever you do
Lil Uzi Vert is known for his unique musical style, which features a blend of rock music and emo rap. The rapper is also defined by his elegant facial tattoos and piercings, as well as his eccentric fashion styles.
3. Collaboration is a key ingredient for success
It's difficult to make it in the rap industry without teaming up with established brands to grow your own. Lil Uzi Vert understands this critical success lesson, which is why he has collaborated with numerous renowned artists, including Future and Gucci Mane.
Famous Quotes by Lil Uzi Vert
"A whole bunch of 'ayes' and a whole bunch of 'yeahs.' That's it. That's all I do. What you call mumble rappers. So you say 'yeah' after everything and make it rhyme no matter what it is."
"I just want to be successful. I'm not going to sit here and be like, 'I want to win a Grammy' or whatever; if that comes, that's awesome. But I just want to be successful and provide for my whole family and get my family out the hood."
"If you're you, it doesn't matter if you're the most boring person in the world: someone will like you. You're not trying to be anyone else."
"One thing rap and rock have in common, a lot of it is focused on negativity. I like dark stuff."
"There's a lot of haters in Philly, but it's a lot of people that give you support – but way more haters. It's definitely a great city to be from. But it's not really a lot of people that come out of there. So when you, like, make it out of Philadelphia, everywhere else is easy."
Conclusion
Lil Uzi Vert has achieved monumental success during his 10-year career as a rapper, singer, and songwriter. And his efforts reflect favorably on his $20 million net worth. Even if the rapper makes good his regular threats of quitting the industry, he will surely have made his mark.