Offset's Net Worth And Biography (Updated 2022)
Who Is Offset?
Kiari Kendrell Cephus, popularly known as Offset, is an American rapper and songwriter. Offset is a member of the hip hop and trap music band, Migos. Other members of the group include his cousin, Quavo, and Takeoff.
Quick Facts
| | |
| --- | --- |
| Full Name: | Kiari Kendrell Cephus |
| Popular Name: | Offset |
| Gender: | Male |
| Birth Date: | December 14, 1991 |
| Age: | 30 years |
| Parents: | Unknown |
| Siblings: | Unknown |
| Birth Place: | Lawrenceville, Georgia |
| Nationality: | American |
| Ethnicity: | African-American |
| Education: | Riverside Military Academy |
| Marital Status: | Married |
| Sexual Orientation: | Straight |
| Wife/Spouse: | Cardi B |
| Children: | Jordan Cephus, Kody Cephus, and Kalea Marie Cephus (from previous relationships) and Kulture Kiari Cephus (from marriage to Cardi B) |
| Dating: | N/A |
| Net Worth: | USD 30 million (as of August 1st, 2021) |
| Source of Wealth: | Rapping, Songwriting, Endorsement Deals, and Other Ventures |
| Height: | 5′ 9″ (1.75 m) |
| Weight: | 78 kg; In pounds: 172 lbs. |
Early Life and Career Information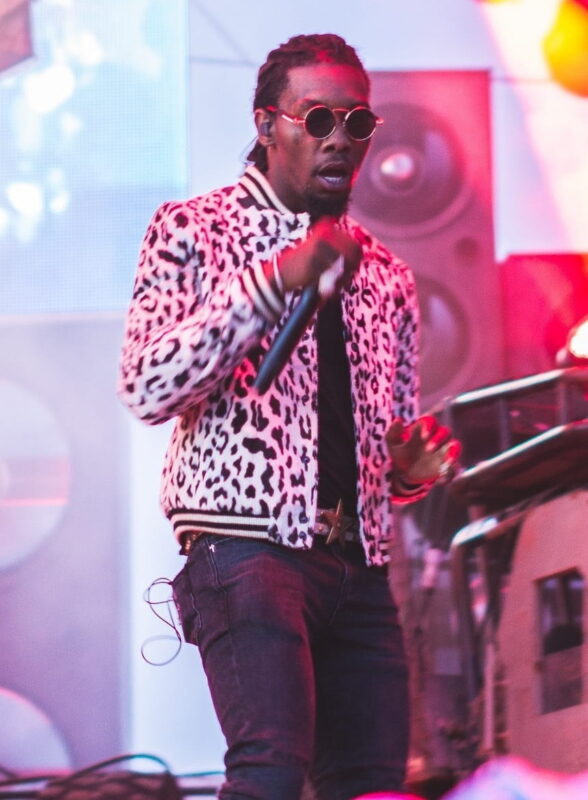 Kiari Kendrell Cephus was born on December 14, 1991, in Lawrenceville. His father abandoned his mother when he was only four years old, forcing him to move in with his cousin Quavo's mother, Labatia Woodward.

Offset is one of the founding members of the hip hop and trap music group, Migos. The other two members are related to him.

Migos has been in the music industry from 2009. However, the group was officially introduced to the mainstream hip hop audience in 2013 after they made an appearance on Drake's remix titled Versace. Soon after appearing on Versace, Migos released Hanna Montana. The song garnered 10.8 million YouTube views, contributing to their fast-rising popularity. The group went on to release a mixtape titled Young Rich Niggas, which went on to garner 83,333 page views on Genus.

In 2015, Migos released their debut album, titled, Young Rich Nation. Unlike their previous projects, the album performed dismally, selling a paltry 15,000 copies during its first week. The year looked a bit bleak for the hip hop band but in September, things changed when one of their hits, Look at My Dab, began to gain widespread popularity. The song garnered more than 32 million views of YouTube.

To date, Offset has released three albums with the Migos, namely:

• Yung Rich Nation – (July 31, 2015)
• Culture – (January 27, 2017)
• Culture II (January 26, 2018)

The group's second and third albums have been certified platinum by RIAA, with the third album achieving the feat twice.

Offset has also released a studio album, Father of 4 (2019) and a collaborative album Without Warning (with Metro Boomin and 21 Savage) (2017).
Offset's Net Worth
As of August 1, 2021, Offset had a net worth of $30 million. That's quite impressive for someone who has been in the industry for just a little while.

Offset mostly makes his money from album sales and tours, as well as streaming commissions, endorsement deals, and other personal ventures. The past few years have been his most financially successful ones.

Between September 2017 and September 2018, the Migos trio is believed to have earned $25 million from their various endeavors. Out of that amount, Offset took home roughly $8 million. These earnings were largely attributed to the band's successful nationwide tour, where they performed a total of 93 shows over a 12-month period. The same year, Migos became one of the world's most popular streaming acts, raking in more than 4 billion streams.

Between September 2018 and September 2019, the Migos trio earned $36 million. If the amount was split equally among the group members, then Offset's cut was a staggering $12 million.

In addition to music and tours, endorsement earnings are offset's next biggest income earner. There are no official records yet on how much the rapper earns from his various endorsement deals. However, it's safe to conclude that he takes home decent cash out of the numerous sponsorship ads he has undertaken through his social media accounts.

Offset is mostly active on Instagram, where he enjoys an over 16 million following, placing him in a position where he can comfortably make $30,000 per sponsored post. According to Influencer Marketing Hub, the rapper can make as much as $44,378 for every sponsored post on Instagram.

Offset's asset base also includes a Rolls Royce Wraith, which he received from his wife, Cardi B, on his 26th birthday. The car's price ranges between $311,900 and $450,000.
How does Offset spend his money?
Like many successful rappers, Offset doesn't shy away from splurging on expensive clothes, jewelry, and vacations. The rapper reportedly gifted her girlfriend with a ring worth $500,000. He owns a diamond necklace valued at $95,000, as well as a platinum bracelet that features an emerald. In 2017, he purchased a house worth $800,000 for his mother.

Offset is also famous for his selfless acts of generosity. In 2018, he was involved in a tragic car accident where he almost lost his life. After learning about the man who saved his life, Offset decided to gift him with a brand new car.
Life Lessons from Offset
1. You can barely make it alone

Offset owes his success to the Migos hip hop band. He is proof that you can barely make it alone, unless you partner with likeminded individuals.

2. Be humble

Offset has a massive net worth, which he occasionally shows off. However, the rapper is known to be down-to-earth and has kept a low profile for the better part of his career.

3. A little act of kindness goes a long way

After surviving a grisly road accident, Offset decided to reward the man who saved his life with a brand new car. Not only is this an act of reciprocity, but it speaks to the rapper's sense of kindness and generosity.
Famous Quotes by Offset
"Certified everywhere, ain't gotta print my résumé."
"I gotta keep my wordplay and make sure I don't lose nothing."
"Is it my looks? Is it my wealth? Or is it the way I carry myself?"
"The watch everybody rap about, I have in real life."
"You got to grow up and mature when you see you've got something going for real."
Conclusion
Offset is one of the few rappers with an impressive achievement to his name and plenty of years ahead of him. Thanks to his consistency and ruthless focus, the rapper has made a name for himself in the unpredictable hip hop industry.